Your Personal Giving Fund.
At Keshet you can open your own Giving Fund, donate at your own pace,
to the causes closest to your heart, and create the impact you want.
You get to enjoy the act of giving without dealing with all the bureaucracy.
It's your very own personal fund – one that gives you total peace of mind.
Why donate through Keshet?
Donating through Keshet lets you enjoy numerous benefits, and is a simple, more efficient and more effective way of giving.
Our two-step process enables a separation between your donation to Keshet and its transfer to an organization at a later date, while receiving the maximum tax credit.
Keshet's platform is simple to use and to manage, providing easy access to information.
Keshet thoroughly vets and approves the organizations it works with, so you always know that your donation has ended up in the right hands.
The fund can be passed on to future generations, creating a family heritage of philanthropy.
Multiple Options to Donate Assets
Appreciated stocks, cash, real estate and even art objects.
Haven't found the right organization? No worries. Donate now and enjoy a tax credit. Even better, while you search for the right recipient, your donation can be invested and actually earn a return!
By making a grant to your selected organization through Keshet, you can stay as highly involved as you like.
You can join Keshet's growing community of donors interested in transforming the act of giving to one of greater influence and effectiveness.
The Donor-Advised Fund (DAF) model is an innovative financial tool for donation management. An increasing number of donors around the world today are choosing to conduct philanthropy via the DAF model.
Using the DAF model, you transfer your donation to Keshet and immediately receive a receipt for tax credit. Over the years, you will decide when to donate and recommend the organizations you wish to support (in accordance with Israeli regulations).
Keshet will perform all the necessary due diligence to ensure that your donation reaches its rightful destination, and if you wish, we will be there to escort you through the entire process, providing consultation whenever needed.
You can donate a variety of assets to Keshet – appreciated stocks, cash, real estate and even art objects.
One more important thing.
You can start the process now – even before you have chosen the organization you wish to support. The money you donate to Keshet not only provides you with an immediate tax credit, but it can accrue profits while you make your decision. You can even choose to invest these funds at an investment house, where they can grow in value and enable you later on to generate an even greater impact.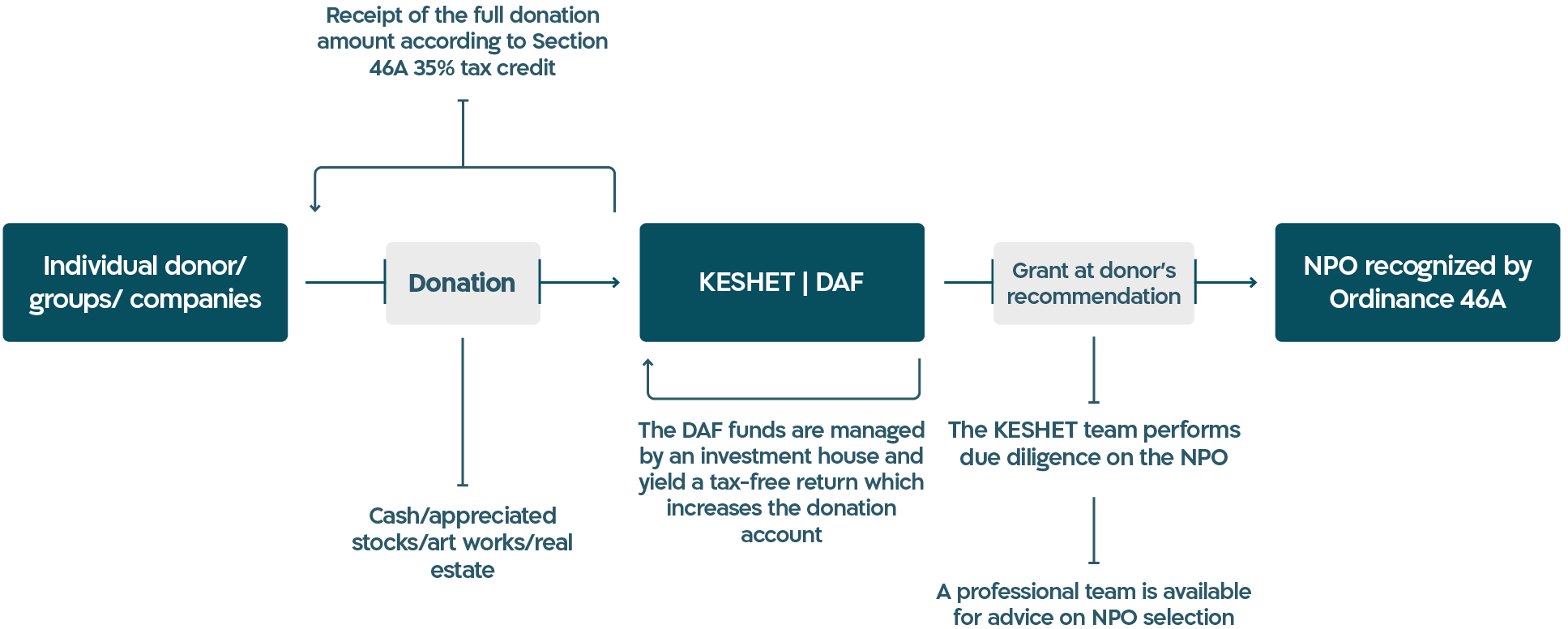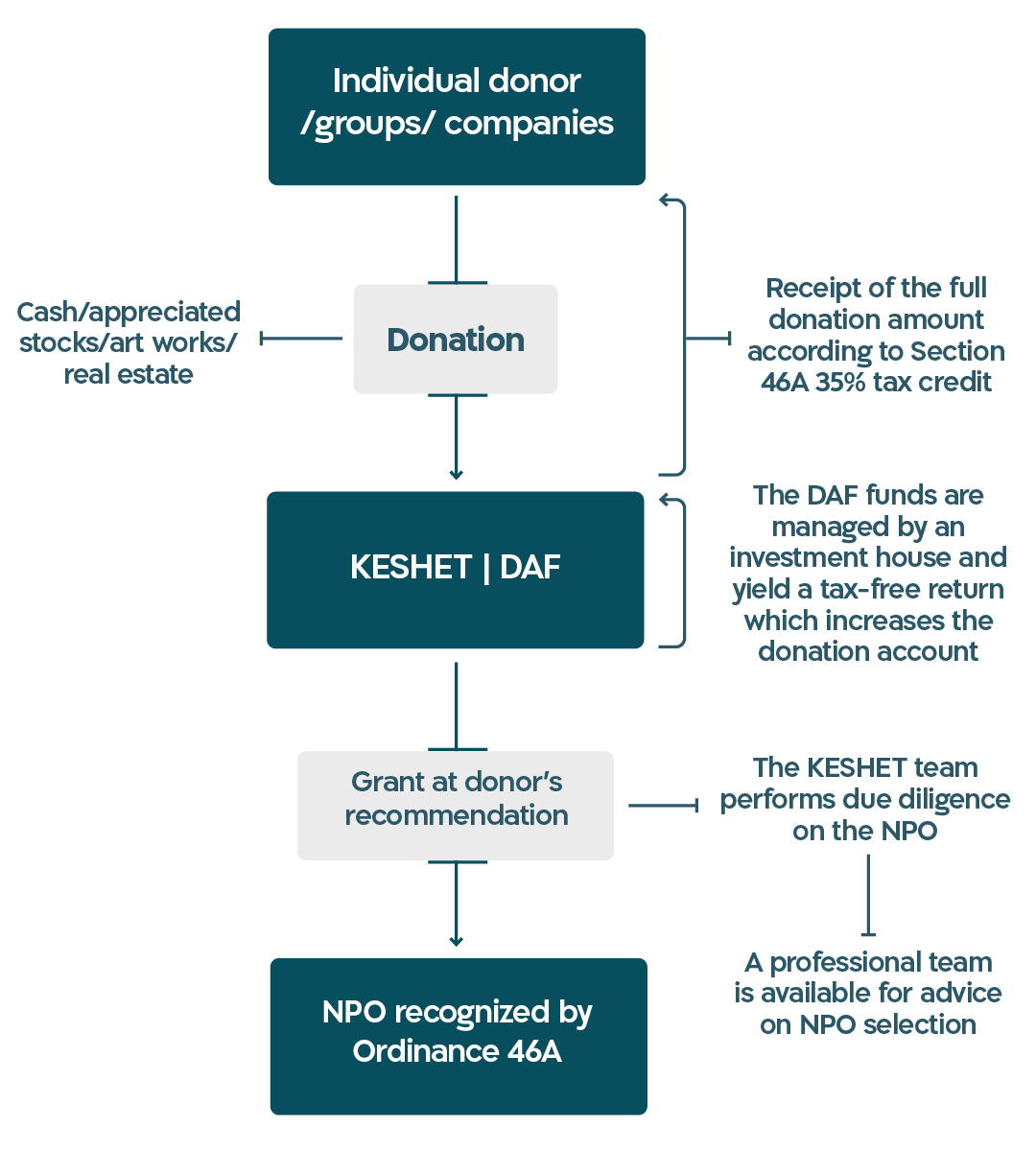 Donating Appreciated Stocks
Keshet receives a variety of assets for donation – including appreciated stocks.
On the day your shares are transferred to Keshet, you will receive a receipt for tax credit under section 46, in accordance with the shares' value upon the closing of the trading day.
The process of donating stocks takes several days.
How does it work?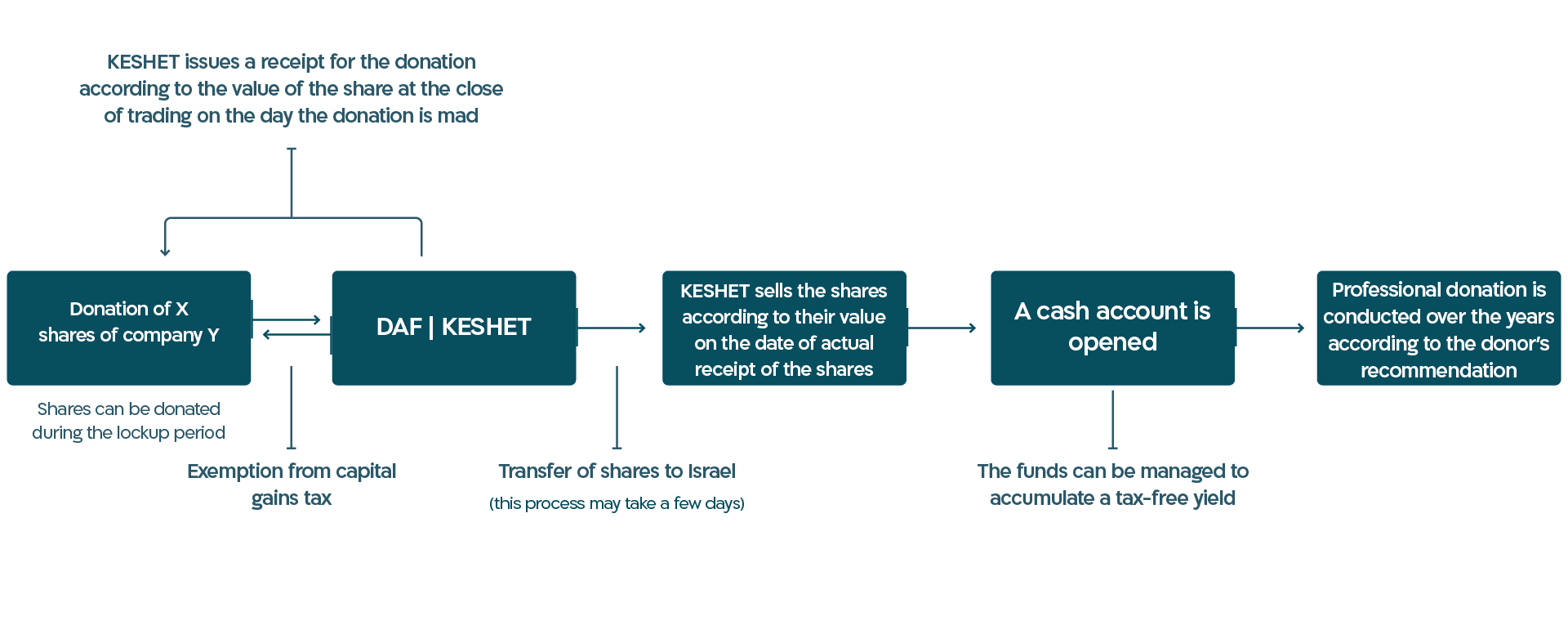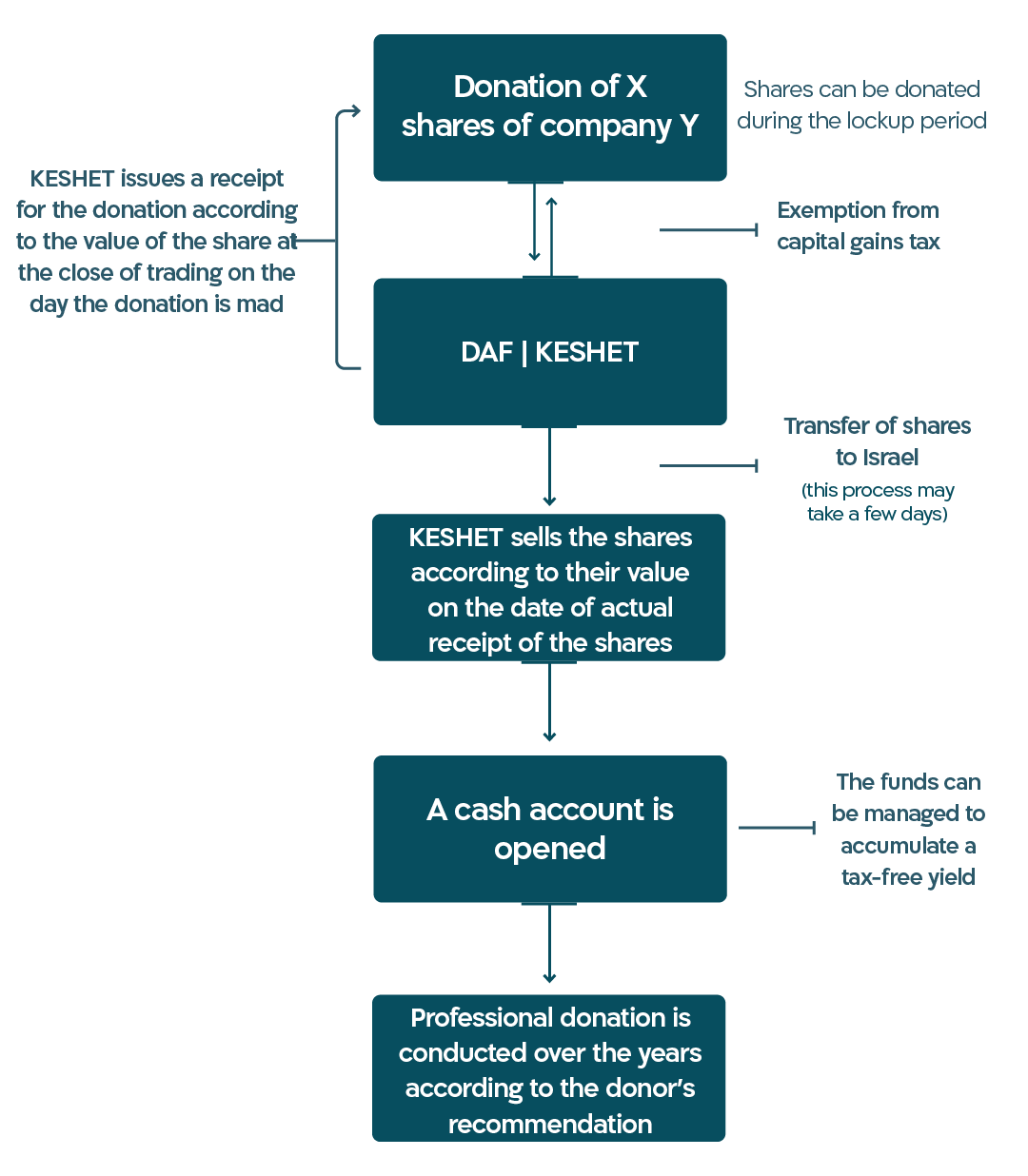 *The information on this site should not be construed as tax or legal advice. Keshet recommends that donors consult with qualified tax advisors and lawyers who have expertise in the country from which the assets will be donated.
How do I transfer funds from the US to Keshet?
With Keshet you can transfer funds from the US via one of the following options:
P.E.F. Israel Endowment Funds, Inc.
P.E.F. Israel Endowment Funds, Inc. is a registered United States 501(c)(3) charity and is a fully tax exempt organization. PEF provides a means for individuals, foundations and charitable institutions to recommend grants to Keshet at no expense to the donor.
JFN – Jewish Funders Network
For donations of $ 10,000 or more, JFN is offering a service to Keshet donors that enables them to transfer funds from the US to their Keshet account in Israel. This donation to Keshet via JFN will be considered charitable by the U.S. government. It's important to note that this is not JFN's Give to Israel service.
Transfer via your US-based donor-advised fund
Donor-advised funds in the US may use Keshet's NGO Source ED Certification to transfer funds. With this certification, Keshet is certified as equivalent to a US public charity, allowing US DAFs to transfer funds directly to Keshet.


Create a new family heritage of giving
Your own personal Family Fund.
Keshet enables you to transform the simple act of giving into a family heritage of societal contribution. 
As a family, you can jointly manage capital earmarked for donation, make decisions in collaboration with the younger generation, or create a joint fund for siblings and other family members.
Keshet provides you the ideal platform for your family's philanthropic legacy and to ensure that the next generation inherits your values and commitment to society.